By Colin McKeown
I have had a strong attachment to Atlantic salmon fishing since I hooked my first fish on Nova Scotia's Margaree River nearly 20 years ago. With their aggressive surface takes, acrobatic jumps and reel screaming runs, Atlantic salmon have consistently been one of my favourite fish on a fly.
Over 60% of prolific east coast salmon runs are located in Newfoundland and Labrador in more than 200 rivers. Over the past five years, I've had the good fortune of fishing many of these when shooting episodes of The New Fly Fisher TV show. While these have been well received by our viewers, some have E-mailed us regretting that the places we go to are only for the rich and too expensive for their budgets.
This impression is understandable, some Newfoundland and Labrador fishing lodges are very expensive. But not all of them: there are lodges which provide excellent salmon fishing for between $2,500 and $3,000 (everything included) for a five day trip. I've selected three of these (all of which I've visited) located on the western and northern coasts of Newfoundland, where there are so many productive salmon rivers, that the guides will always be able to find a river where they can put you on to fish.
Newfoundland: a Brief Snapshot
Newfoundland is blessed with geography that is ideal for salmon. Most rivers, especially those in the north and west (where the three featured lodges are situated), are free of human habitation except for a few small, coastal villages. Consequently, they're exceptionally clean and unpolluted—perfect for Atlantic salmon. Most are small to medium in size making them easy to wade. They're also very clear, although some have a touch of tannin stain from the tundra bogs in the mountains.
All western Newfoundland rivers flow from the Long Range Mountains, which are 500 to 2600 feet in elevation and run north by north east from Channel-Port aux Basques in the south to St. Anthony in the north. The region boasts pristine, wild beauty, with an abundance of wildlife, including moose, caribou, fox, beaver, and various waterfowl and birds of prey. The drive north (either from Deer Lake airport or from the ferry terminal at Channel-Port aux Basques) is impressive, especially the rugged Gros Morne park, just north of Deer Lake.
There are other attractions here besides superb Atlantic salmon fishing, such as whale and iceberg watching, hiking, as well as shopping and some great restaurants in Corner Brook and St. Anthony.
Where-Ya-Wanna-Bee Outfitters
This is a small lodge, located on a beautiful lake near Corner Brook. The owners, Barry and Janice Sweetland, love the outdoors, especially fishing, and it shows. Janice takes great pride in serving delicious meals with fine wines every night. Barry is a hardcore fly fisher and salmon enthusiast. He knows this region exceptionally well and receives constant cellphone updates on the state of the fishing on the 12 scheduled salmon rivers in the area.
This is one of the great benefits of this location: there are lots of rivers to choose from. If conditions on one river is slow with few fresh salmon, Barry will always find another river on which conditions are favourable. All 12 rivers are within a two hour drive of the lodge, with most being less than an hour. The fish here can be big, up to 30 pounds plus. During our stay there, we caught numerous grilse caught, as well as plenty of 10-15 pound salmon—most taken on Bombers, but also on a swung wet fly. I also saw several 20-30 pound fish, but could not coax them into taking my fly.
Mayflower Outfitters
Mayflower Lodge is located at the northern tip of the Long Range Mountains, not far from St. Anthonys. The drive to it from the south is memorable, with incredibly beautiful coastal views. I spotted several whales when I drove it, plus numerous moose. In fact, you have to keep your eyes open for moose, as they seem to be everywhere. The owner of Mayflower Lodge is Trevor Pilgrim, a charismatic Newfoundlander who has a passion for fishing and hunting. Always smiling and joking, Trevor has guided in the region since he was a boy. The lodge has a reputation for its moose dishes, which I sampled several times—including the famous Moose Burger.
What is particularly impressive about Mayflower Lodge is that on many of the rivers you'll never see another angler. Not one. Moreover, the salmon runs are prolific. Trevor insists that his guest get out on the water at first light. I remember one early morning watching wave after wave of fresh, chromed salmon streaking up river, jumping as they came.
Trevor favours using a riffling hitch with a wet fly. However, if the fish stop moving and hold up, he will quickly switch to small bombers for dry fly action. Most of the fish we encountered that morning were grilse-sized, but exceptionally explosive and on a seven weight rod were great sport. Most fish would jump 6-12 times before being landed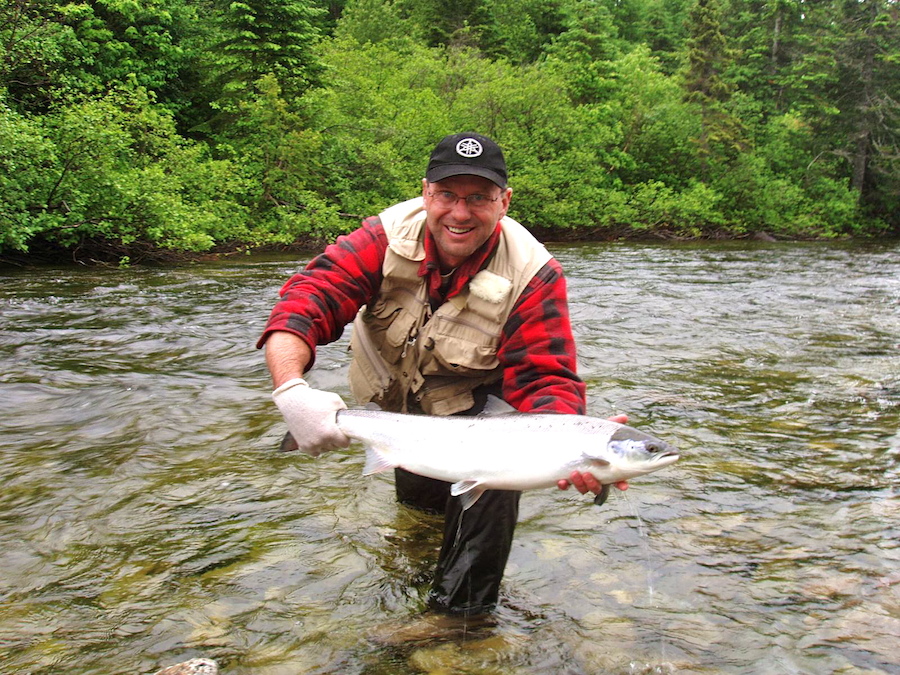 Tuckamore Lodge
Tuckamore lodge, which is also located near St. Anthony, is a beautiful first-class luxury lodge. Its Scandinavian style design is very popular with couples, newlyweds and tourists, but they have affordable and comfortable accommodation for salmon anglers. Like Mayflower Outfitters, they too have access to a half dozen quality salmon rivers in the region. Most fish caught are grilse, but there is also a fair chance of hooking into10 pound plus fish. Owner Barb Genge runs a superb facility that has been a hotspot for visitors for nearly 20 years. One of the most popular activities, besides whale watching and iceberg spotting, is visiting a nearby Viking settlement at L'Anse aux Meadows—the first and only Viking settlement found in North America, dating back 1000 years when the Vikings first made landfall here in the land they named Vinland (either "Wine Land" or "Pasture Land").
Atlantic Salmon Flies for Western Newfoundland
For fishing for Atlantic salmon in western Newfoundland you'll need a good selection of wet flies and bomber patterns. Of course, your guide will be able to help you make the best choice when you're on the water, and we recommend that before you leave that you ask the outfitter just what patterns to bring. What surprises most anglers is the small sizes used—mainly sizes 6-10 with size 10 being the most common. The key to all wet fly ties is to make the dressings sparse. Besides helping to get the fly beneath the surface of the water, it also seems to be what salmon most desire.
Wet Fly Selection
Blue Charm: sizes 4-10
Silver Tip: sizes 6-10
Predator: sizes 6-10
Green Highlander: sizes 4-10
Black Bear Green Butt: sizes 4-10
Jock Scott: sizes 4-10
Dry Fly Selection
Green Machine: sizes 4-10
Bombers in green, brown, black & white: sizes 2-10 (with orange hackle)
White Wulff: sizes 4-8
Royal Wulff: sizes 4-8
Dry Cosseboom: sizes 4-8
Gear and Technique
A seven or eight weight outfit with a nine foot rod is ideal for most conditions. All you need is a weight forward floating line. For a leader, most guides prefer to use a single piece of mono in either 10lb or 12lb test, rather than a knotted leader system, which tends to pull the fly up in the water column due to drag caused by the knots. Maxima leader is well liked in northwestern Newfoundland, because of the colour (brownish) which matches the tannin stain in some rivers.
The best presentation technique for wet flies is to use a riffling hitch. This popular technique offers the salmon a side-view presentation of the fly, which seems to trigger an aggressive response.
For dry fly presentation, simple drag-free drifts over likely looking lies are best. However, sometimes "skittering" the bomber over a lie can entice a salmon to take.
If you are looking for an affordable and fun salmon fishing trip, then I strongly recommend the lodges and outfitters of Newfoundland. The New Fly Fisher team has fished all three of the locations featured in this article, and we can heartily recommend each one. All have great fishing, great accommodation, and great food. Moreover, all are affordable and accessible. Give them a try—you won't regret it.
Getting There
There are regular commercial flights to Deer Lake, which is located about half way between the northern and southern ends of the Long Range Mountains. From here, it's a comfortable drive north by rented car
Alternatively, it's possible to drive to Sydney in Cape Breton, Nova Scotia and take the ferry to Channel-Port aux Basques, located at the southwest corner of Newfoundland. The drive north is twice as long, but it's impressively scenic.