St. Mary's River and the SOO guides
by Colin McKeown.
The St. Mary's River, which flows through Sault Ste Marie (Ontario), has become renowned for the quality of its fishery and the long season in which it can produce excellent fishing.
the
Outside of Sault Ste Marie, the region of Algoma (Northern Ontario) has also been growing in popularity with fly fishers as an exceptional destination for brook trout, smallmouth bass, northern pike, salmon and much more. All this great fishing, hundreds of pristine lakes and rivers…but the main question for first time visiting anglers is, where to start? Thankfully Algoma and Sault Ste Marie (known as the "SOO") is blessed with several outstanding and professional guides who can help direct you to the right place and at the right time to be successful.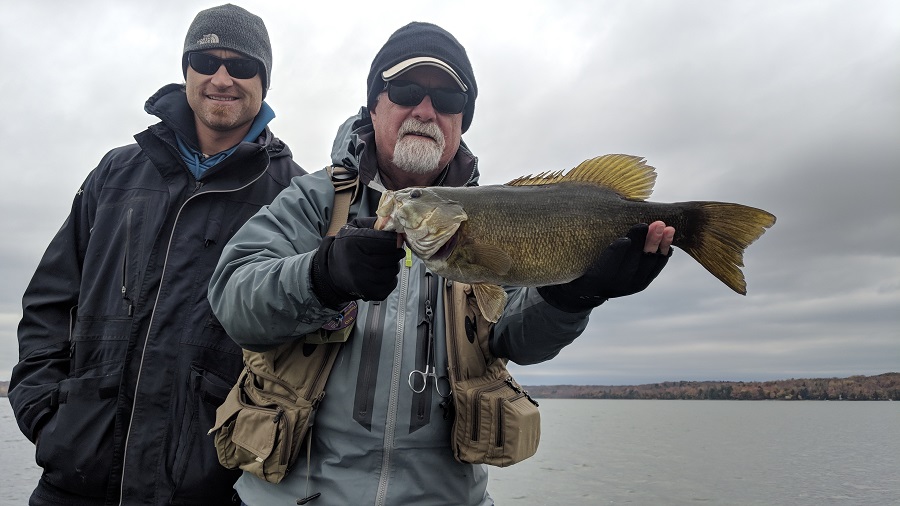 For those who love big smallmouth and largemouth bass (like I do) then guides Adam Vallee and Tyler Dunn are your best bet. Both have grown up fishing in the Algoma region and are ardent bass fishers, whether with a fly rod or bait caster (in fact Adam has been quite active in Canada and the USA, fishing in bass tournaments). You can bring your own boat or both guides have their own craft to take you to lakes and rivers.
Usually customers either stay in Sault Ste Marie at one of the many hotels, inns and motels or they also often stay outside of the city at lodges and resorts. This allows for shorter driving distances to lakes and rivers that are productive for bass.
My daughter spent several days with Adam Vallee fishing from his boat and catching some massive 4-6 pounds smallmouth on poppers. They stayed at Limber Lost Lodge, which is a conveniently located with good access to smallies. Conversely on another occasion, Tyler Dunn took my daughter to Lake Superior to search for big smallmouth off pencil weeds and other structure. They did exceptionally well using white streamers that simulated smelt in the area. Both Tyler and Adam can guide on the St. Mary's as well for steelhead and salmon.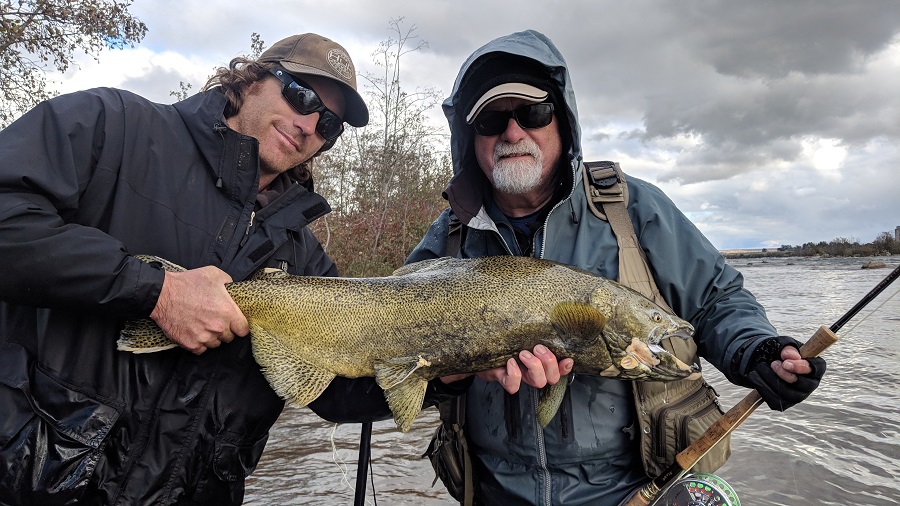 For those keen to catch Atlantic salmon or steelhead on a fly, then professional guide John Giuliani is the man to reach out to. With over 30 years experience fishing on the St Mary's, John fully comprehends the critical aspects of how the river acts to water level changes, time of season and especially what species are coming in. His favourite species to target is unquestionable Atlantic salmon.
John can guide you from shore, walking and wading, or at certain times of the season, even from his boat. Sometimes the fish want smelt patterns, often it is big stoneflies, but either way, John will help set you up with the right flies to get you into the steelhead, salmon and other species that come up river. I have seen him help new anglers catch the biggest salmon of their lives with new techniques they've never seen before. John is the consummate professional and a thoroughly knowledgeable guide on the St. Mary's River.
After numerous years of fishing new locations, if there is one thing I have learned to help raise your fishing success, is hiring a good quality guide. They will take you to the best fishing locations, demonstrate what to use and how, and ensure you enjoy your quality time on any Algoma river or lake. Having fished with a great number of guides in the USA, Canada and internationally, I can honestly say that Adam, John and Tyler are all in my top ten guides based on their quality of knowledge, fun factor and helping you have success on the water.
Colin McKeown
Host, The New Fly Fisher
Videos
For a greater understanding of what Sault Ste Marie and guides Tyler Dunn and Adam Vallee can offer, check out the following video:
https://www.youtube.com/watch?v=C-x–E2yeTI&t=1s
For more information about the incredible Atlantic Salmon fishing and guide John Giuliani, we recommend watching this video:
https://www.youtube.com/watch?v=z7Tu1dnaTfo&t=159s
Contact Information
Angling Algoma – Adam Vallee
Web: https://www.algomacountry.com/partners/angling-algoma/
Phone: 705-943-5286
John Giuliani Fishing Adventures
Web: https://www.algomacountry.com/partners/john-giuliani-fishing-adventures/
Phone: 705-575-5570
Tyler Dunn Guiding
Web: https://www.algomacountry.com/partners/tyler-dunn-guiding/
Phone: 705-206-0984